From your daily commute to weekend ride, the AirGPS is ideal for anyone who wants to measure time, speed and distance.  The AirGPS offers fast and simple set-up via the CatEye Cycling™ smartphone app, and now features the Glonass satellite network for enhanced GPS accuracy. An easy to read 3-row display, and programmable backlight ensure you can see your data even in low-light conditions.  Ride data can be uploaded to Strava™, TrainingPeaks™, and CATEYE Atlas™.
Regular price

Sale price

$79.95
Features
Functions
Run time
Tech Specs

Maximum speed:0.0(4.0)〜99.9km/h [0.0(3.0)〜62.0mph]
Wireless transmission:Bluetooth®
Speed detection:GPS and GLONASS, optional Bluetooth® Speed sensor
Tire size:100mm~3999mm (default:2096mm)
Total distance (Odometer):0~99999 km [mile]
Battery life:Approx 10 hrs
Dimension:43 x 68 x 21mm
Weight:39 grams
Water resistant:IPX7
Cadence:0(20)~255 rpm
Heart rate:0(30)~255 bpm
Temperature:–10~40 ℃ [14~104℉]
Recharge time:Approx 3 hrs (at 200mA recharge)
Battery:Li-ion rechargeable battery
Battery power charging and communication with PC:Micro USB cable
Recharge/discharge number of times:About 300 times (until the rated capacity drops to 70%)

Shipping Information
Returns Policy
Share
Distance

Moving Time

Temperature

Total Distance

Clock

Speed/Heart Rate/Cadence

Avg Speed/Heart Rate/Cadence

Max Speed/Heart Rate/Cadence
The AirGPS displays up to 8 different functions, providing an overview of your performance during your next cycling adventure.
Using its built-in auto start/stop feature, the AirGPS records your actual moving time, providing the most accurate measure of ride duration.
The AirGPS indicates the current ambient temperature on your ride and supports both Celsius and Fahrenheit formats.
Total Distance records and displays the cumulative distance traveled and can be updated to reflect your current yearly distance totals from other devices.
Easily view the current clock time from the large color accentuated display field and choose between standard or 24 hour time formats.
AirGPS displays current heart rate and cadence measured by paired sensors along with your current speed.
Record and display your average heart rate and cadence from paired sensors in addition to your average speed.
Displays the maximum heart rate and maximum cadence measured by connected sensors in addition to the maximum speed.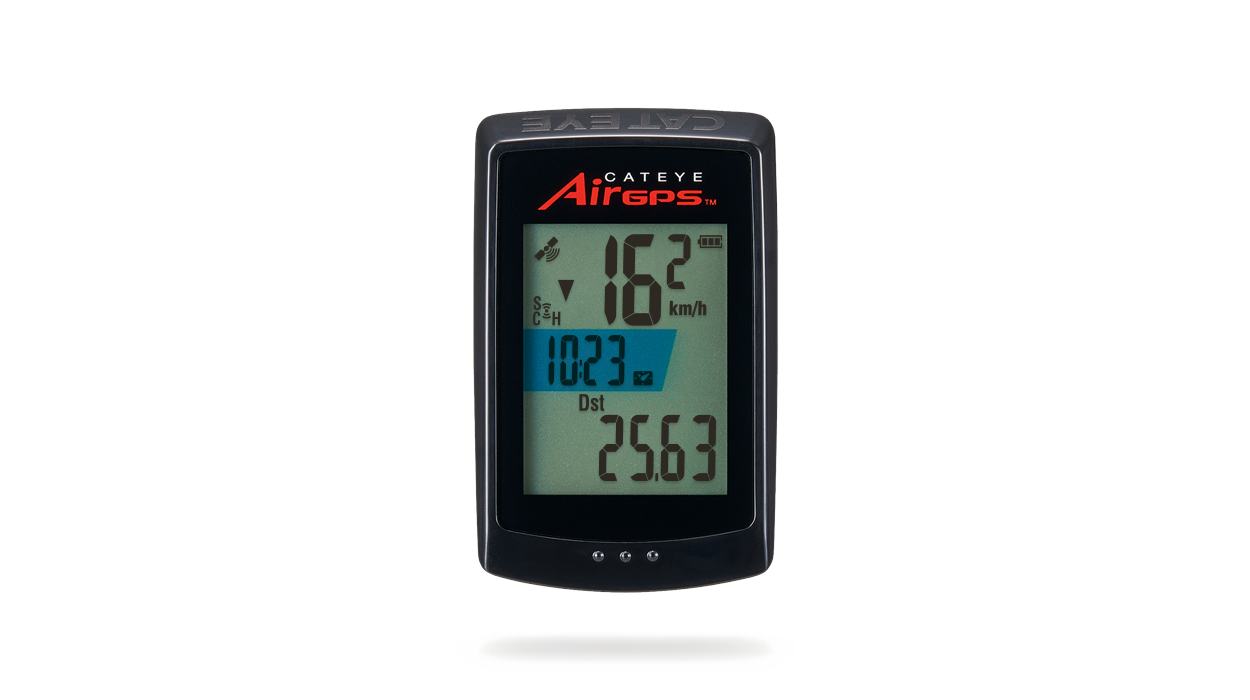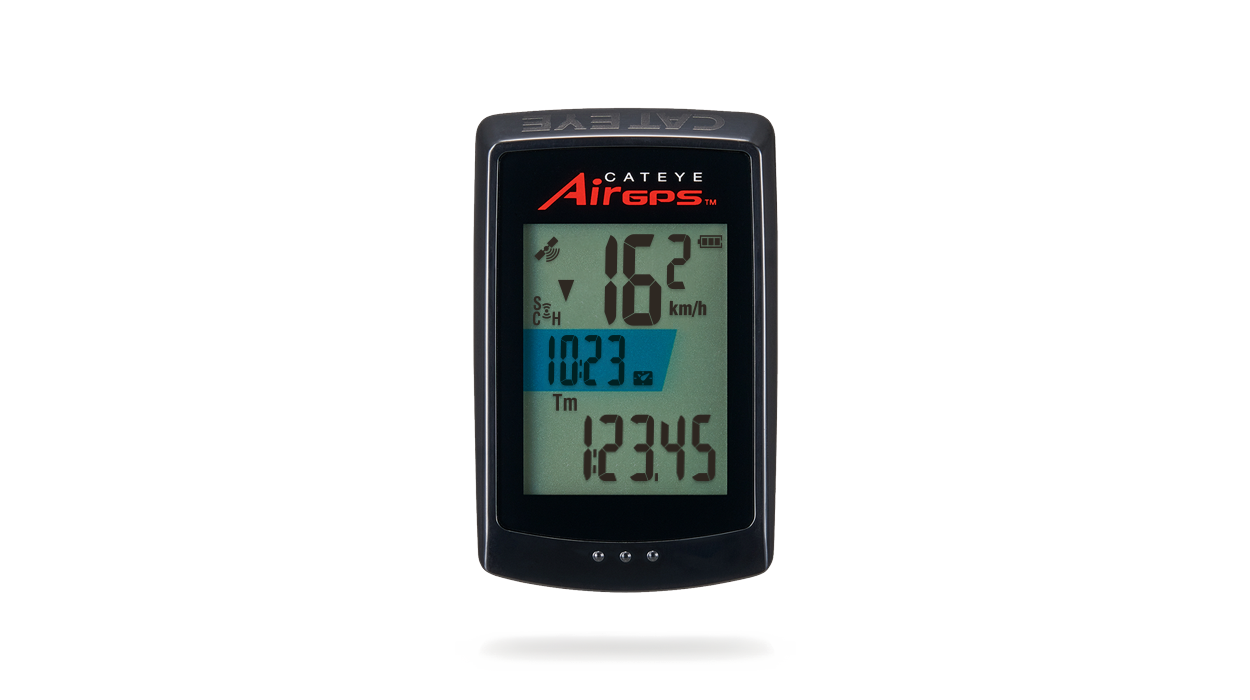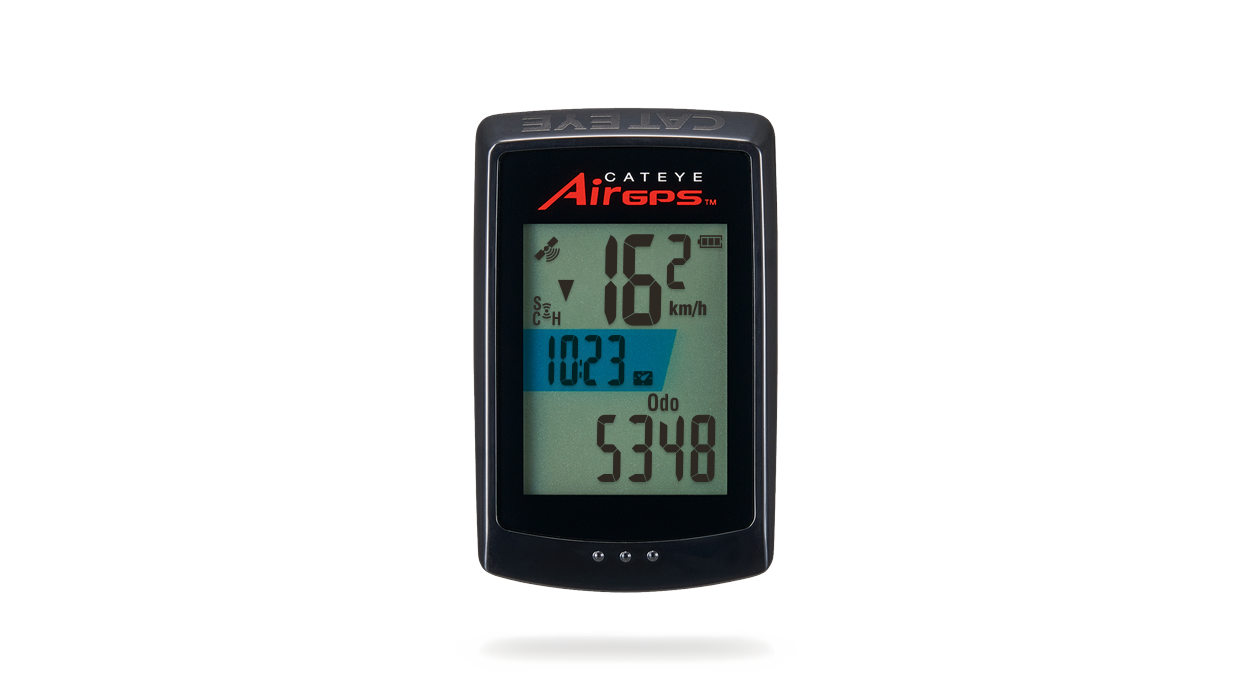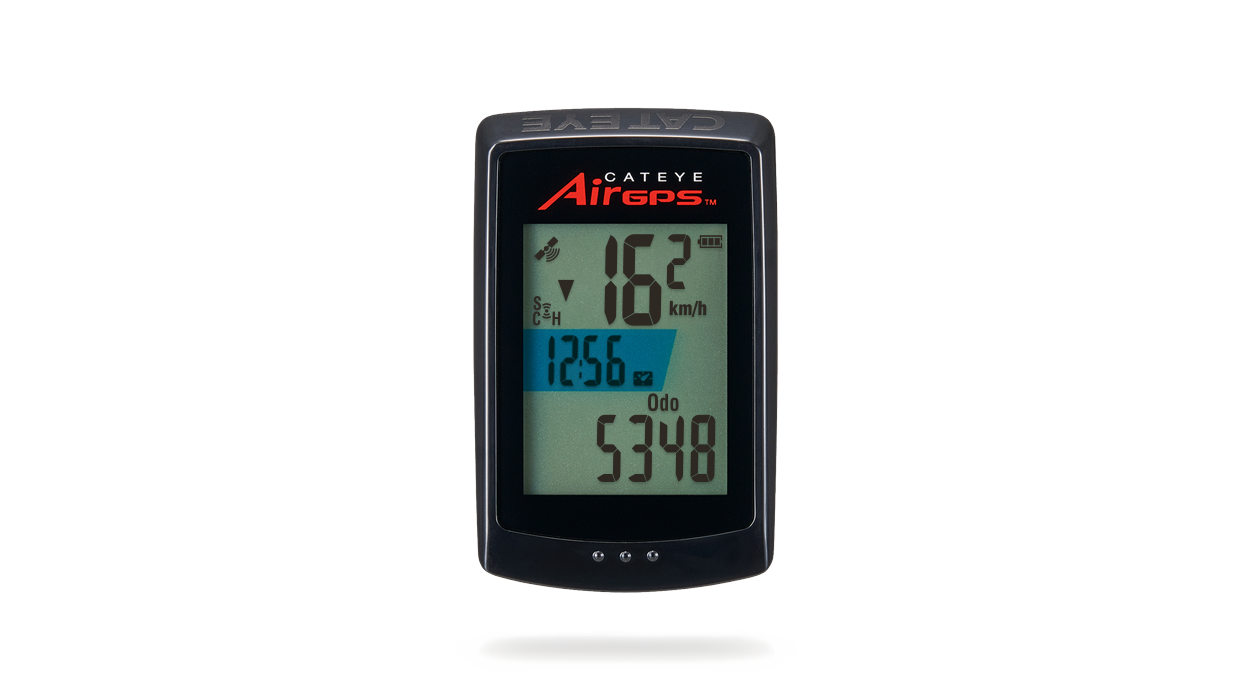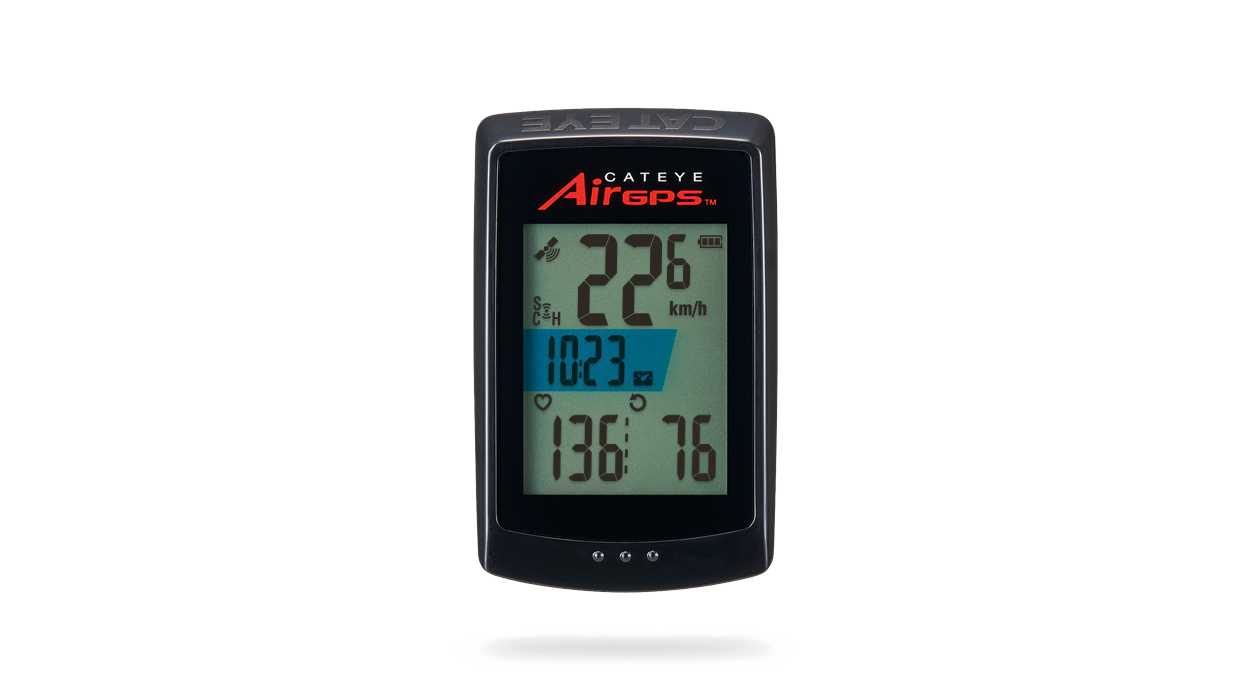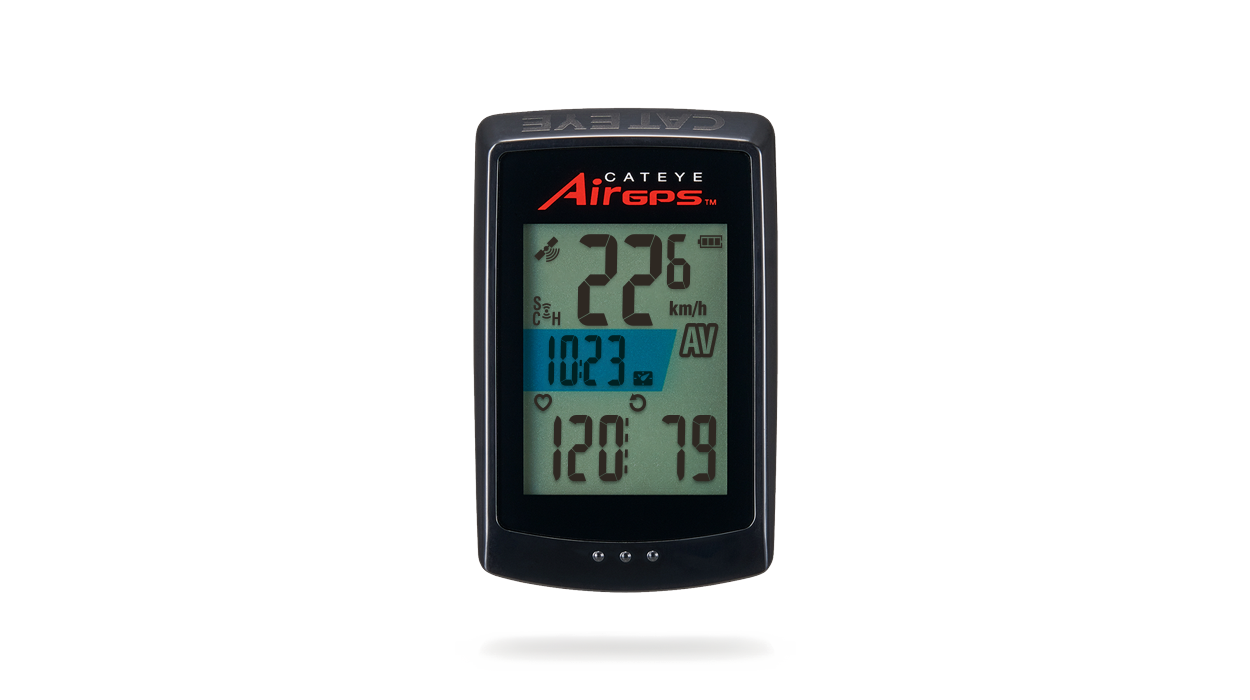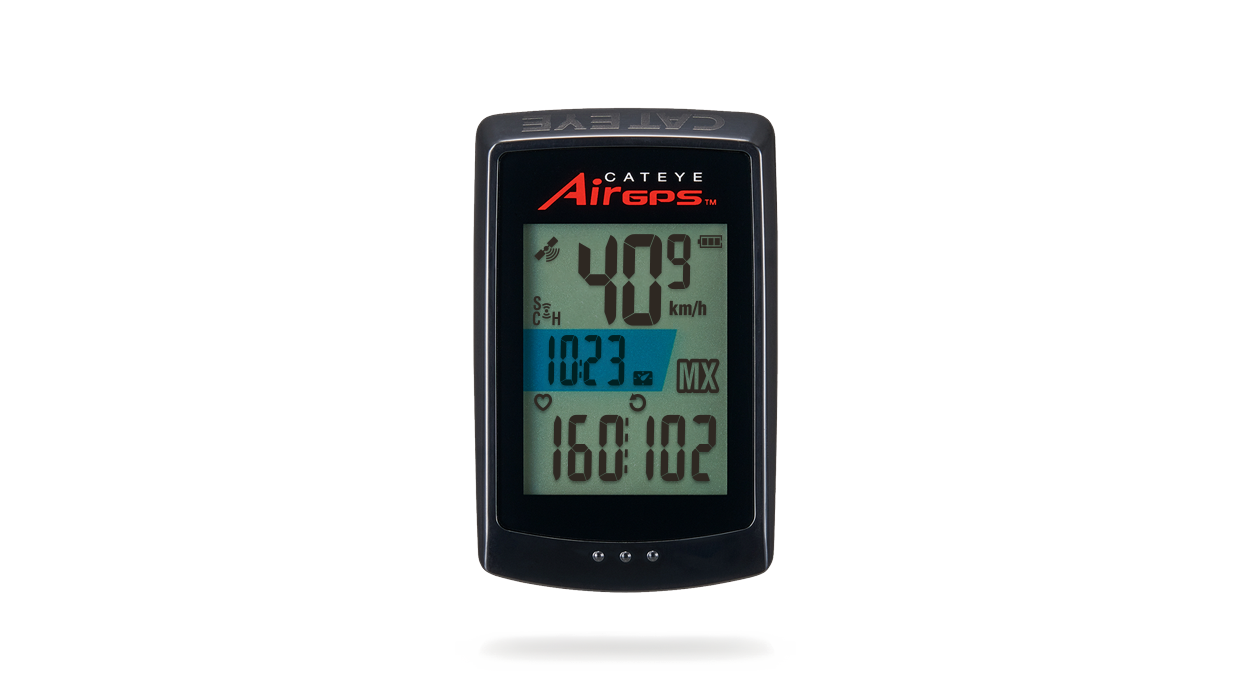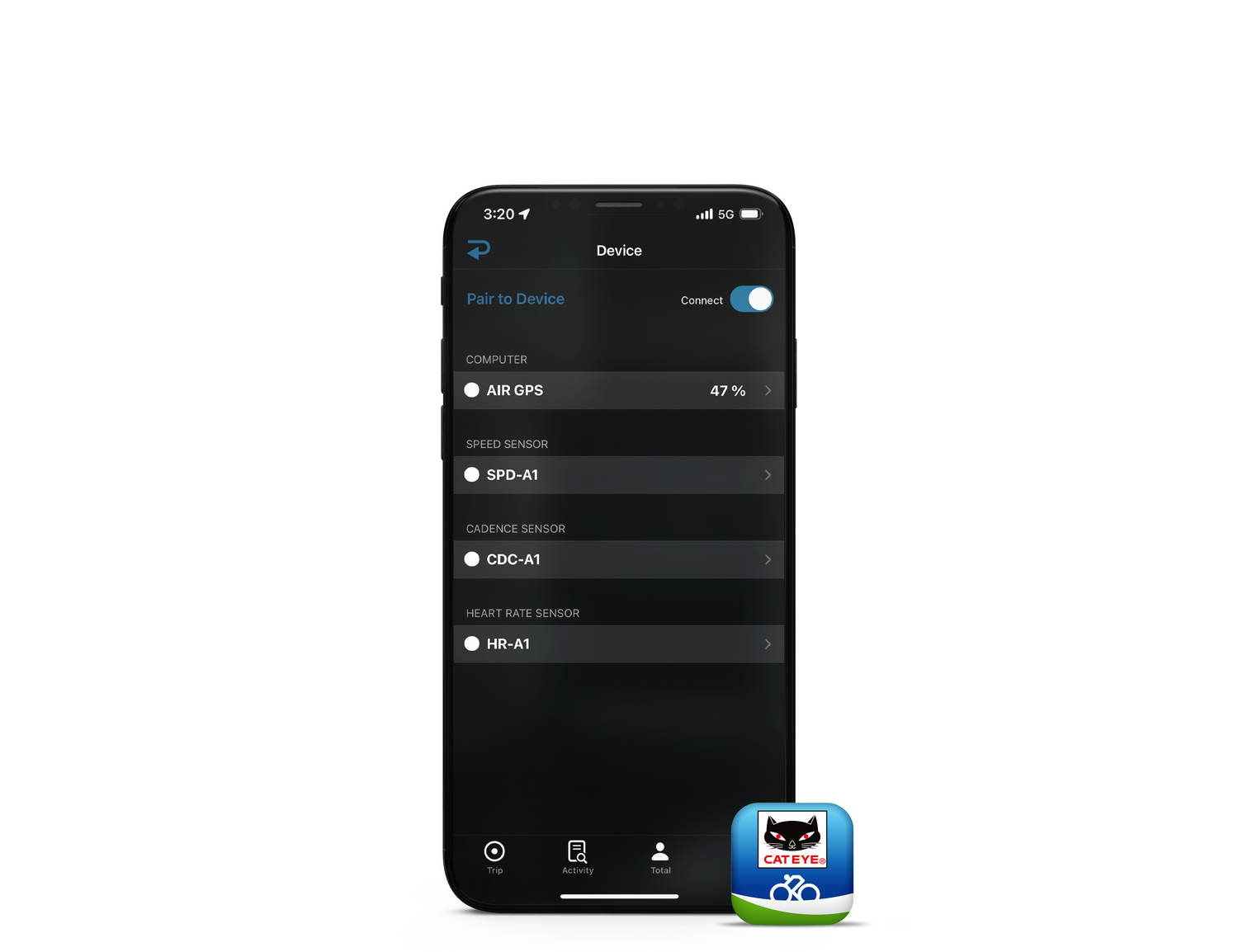 FAST AND EASY SETUP
AirGPS seamlessly connects to the CatEye Cycling App to pair Bluetooth speed, cadence and heart rate sensors, customize display settings, and more!
With its intuitive, always-active search mode, AirGPS removes the need to navigate complex menu screens when pairing your computer with the cycling app. Simply power on your device, click the start button on the app, and let AirGPS do the rest.
Download the free app for Android or iOS and see how the AirGPS makes setup a breeze so you can get out on your next ride faster.
Quick-Start Guide
NIGHT MODE
Illuminate your ride
With the AirGPS, your ride doesn't have to stop when the sun sets. The intelligently designed LED backlight activates automatically and is easily customizable though the CatEye Cycling App, meaning no more fumbling around for buttons in the dark. View your data clearly in all conditions, day or night.
OUT-FRONT BRACKET COMPATIBLE
For the perfect viewing angle
OF-100

The OF-100 Out Front Bracket is the ideal companion for the AirGPS and positions the computer in front of the handlebars for the perfect, easy-to-read viewing angle. Secure, bolt-on design with included shim accommodates 26 mm to 31.8 mm handlebars.

Save 15% when purchased with the AirGPS!

Shop Now

OF-200

The OF-200 Out Front Combo Bracket positions your computer and headlight in front of your handlebars for optimal viewing angle. GoPro style adapter bracket provides an inverted mounting position for compatible headlights and reduces handlebar clutter.

Save 15% when purchased with the AirGPS!

SHOP NOW
OPTIONAL SENSORS
SPEED, CADENCE AND HEART RATE CONNECTIVITY
Stay connected to your data and keep your training plan on track with our redesigned speed, cadence and heart rate sensors. Our latest generation of wireless sensors feature Magnetless and Optical technologies with ANT+ and Bluetooth dual-band connectivity, making them equally suited to your next indoor trainer session or outdoor adventure. Hassle free set-up and quick-mount design makes installation a breeze.
SPD-30 MAGNETLESS

Dual-band Bluetooth/ANT+ connectivity for quick and easy pairing with the CatEye Cycling app. With IPX7 waterproofing, this sensor attaches to any front or rear hub with the included rubber strap and provides a reliable speed and cadence reading without the need for magnets.

Shop Now

CDC-30 MAGNETLESS

With no magnets required, the CDC-30 installs quickly and easily on all crank arm types and offers dual-band connectivity to your smartphone or CATEYE bike computer. Features an integrated accelerometer, IPX7 rating, and durable mounting strap for easy attachment.

Learn More

OHR-30 OPTICIAL HEART RATE

This compact wrist watch style device features dual-band Bluetooth 5.0/ANT+ capability with an Optical LED heart rate sensor that makes chest straps a thing of the past. USB rechargeable battery with up to 24-hours of run-time and an IPX7 rating to withstand the elements.

Discover OHR-31
Trusted Since 1954

For over 60 years, CATEYE has been committed to manufacturing products with quality you can trust.

Japanese Innovation & Technology

CATEYE originated the first LED bicycle headlight and continues to be a leader in innovation and technology.

Industry Leading Support

All products come with a robust 2 year warranty and support when you need it.